New logistics centre at Berglandmilch plant in Aschbach-Markt, Lower Austria
The Berglandmilch site in Aschbach-Markt is Austria's largest dairy and has been expanded with a new logistics centre. With the new high-bay racking, which comprises 20,700 fully automated pallet spaces, the Aschbach site can now accommodate 28,000 pallets in total. "The new warehouse will go into operation in November," explains Josef Braunshofer, Managing Director of Berglandmilch.
"We will no longer need to use external warehouses, and transport routes to the customer will also be shorter, as all logistics operations are centralised. This means we can reach our customers faster and increase delivery reliability," adds Braunshofer.
Around 20 million euros have been invested in the logistics centre. It is 46 metres high, 63 metres long and 32 metres wide and offers 15,200 uncooled and 5,500 cooled pallet spaces. 250 pallets from production can be stored here per hour (190 for fresh milk and 60 for long-life milk), and up to 320 pallets per hour can be moved out. 29 retrieval lines (two pallets each) and 492 floor spaces are used for picking, and 29 retrieval lines (three pallets each) for packing.
On the approximately 80,000-square-metre premises of the Berglandmilch plant in Aschbach, more than a million litres of raw milk is processed into delicious dairy products each day, including fresh milk, long-life milk, yogurt, butter, curd and cottage cheese. According to Chairman Johann Schneeberger, Berglandmilch is a leader in several categories with its strong brands Schärdinger, Tirol Milch, Lattella, Jogurella, Formil, Desserta and Stainzer Milch.
In recognition of its outstanding commitment in the area of operational energy efficiency, Berglandmilch's Aschbach plant has already been awarded two klima:aktiv certificates by the 'Ministerium für ein lebenswertes Österreich', which promotes quality of life in Austria.
The Berglandmilch Group, which processes 40% of Austria's raw milk, is owned by 12,000 rural milk suppliers.
Consumers can be assured that the dairy cows are only fed non-GMO feed and that all milk is processed into high-quality dairy products in local dairies using gentle methods and in accordance with strict animal welfare guidelines. "All rural family-run farms which supply milk to Berglandmilch have made a commitment to cease giving non-European animal feed to their dairy cattle from October 2016 onwards," says Schneeberger.
Key figures for the Berglandmilch Group and its subsidiaries in 2015.
Revenue: 850 million
Employees: approx. 1,500
Amount of milk processed: more than 1,200 million kg
Production facilities (incl. Alpi Ried): 12
Milk suppliers: approx. 12,000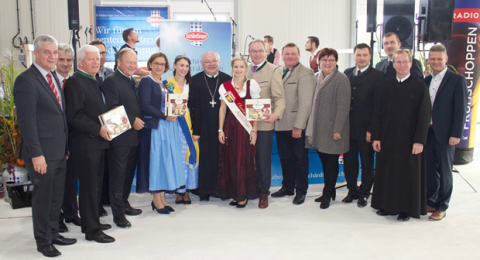 Pictured (from left to right): Member of State Parliament and Mayor Anton Kasser, back Josef Braunshofer Managing Director of Berglandmilch, Member of the National Council and President of the Austrian Farmers' Association Jakob Auer, back National Councillor and Mayor Georg Strasser, President of the Austrian Chamber of Agriculture and Member of the National Council Hermann Schultes, Deputy Governor of Lower Austria Johanna Mikl-Leitner, Lower Austrian Milk Princess Daniela Beiglböck, Abbot Petrus Pilsinger, Upper Austrian Milk Princess Michaela Zöchlinger, State Minister Dr. Stefan Pernkopf, Berglandmilch Chairman Johann Schneeberger, Lower Austrian Member of Parliament Michaela Hinterholzer, Federal Councillor Andreas Pum, back Mayor of Aschbach Martin Schlöglhofer, Pastor Aschbach Georg Haumer, Member of the National Council Andreas Hanger. Credits: Berglandmilch