KÄSE-KAISER 2013
The annual Käse-Kaiser awards for outstanding products and services in the tradition of cheesemaking were presented on 21 November 2012 in the Palais Ferstel.
Berglandmilch, home to the Schärdinger, Sirius and Tirol Milch brands, had cause for celebration again this year. The company received a total of four of these highly coveted awards.
Schärdinger Gervais Natur received the Käse-Kaiser in the cream cheese category, Schärdinger Raclette cheese won the award for semi-hard, robust-piquant flavoured cheeses, and Schärdinger Österkron helped Berglandmilch dominate the soft cheese category. The new Sirius soft cheese block with red cultures was crowned cheese innovation of the year after already winning the state award for environmentally friendly packaging. In addition to these four Käse-Kaiser awards, Berglandmilch also received nominations for its Schärdinger Bergbaron, Schärdinger Moosbacher, Tiroler Adler and Tiroler Felsenkeller products.
Josef Braunshofer (Berglandmilch Managing Director): Awards such as these underscore the superb quality of our products and confirm that our approach is the right one. Our customers understand that premium raw milk is the key ingredient in the finest cheese specialities.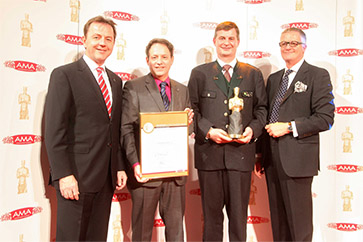 v.l.n.r.: BM Niki Berlakovich, Reinhard Rosenauer (Marketing Berglandmilch) & Markus Oswald (Berglandmilch eGen, Production site Voitsberg),
Dr. Stephan Mikinovic (AMA Marketing). © AMA/Strasser Robert