Berglandmilch Geinberg plant expansion
Berglandmilch's Geinberg site has been expanded to become the central Schärdinger cutting and logistics centre for cheese blocks, cheese slices and grated cheese. The plant in Geinberg currently employs 112 people. In 2013 the Geinberg plant will process over 20,000 t of cheese in total.
The company has invested in expanding the Geinberg central cutting plant's storage capacity along with new cutting and packaging technologies for cheese. "Sliced cheese consumption is increasing. Berglandmilch is responding to this development. Efforts to expand our location here will also create new jobs; naturally, this will have a positive effect for the region. Moreover, we are the only company able to guarantee the airtightness of every individual package. This translates into unparalleled quality assurance for our consumers," emphasises Josef Braunshofer, Berglandmilch Managing Director.
Construction in Geinberg began on 4 March 2013 and over 8,000 sqm of converted space was created in the brief five-month construction period. With close to 6,000 pallet spaces in the raw materials warehouse and around 3,000 in the distribution warehouse, there is now plenty of room for the logistics hub of the delicious Berglandmilch cheese specialities. The expansion project focused a great deal of attention on energy efficiency, achieving a standard that exceeds the regulatory requirements. Heat recovered from the cooling facilities covers over 50 % of the heating energy currently required and special emphasis was placed on heat insulation during warehouse hall construction.
Building plans took space for additional packaging lines in the packaging halls into account as well as an automated final packaging and palletising system. With over € 850 million in turnover and a processing quantity of 1,270 million kilograms of milk, Berglandmilch is Austria's largest dairy manufacturer with a total of 13 locations. Berglandmilch is owned exclusively by the dairy farmers and it markets its milk and dairy specialities under popular brands such as Schärdinger, Tirol Milch, Stainzer, Lattella or Landfrisch.
Picture (from l. to r.): Otto Leitgeb BLM , DI Josef Braunshofer Vorsitzender GF BLM, LLWK OÖ Präsident ÖR Ing. Franz Reisecker, Margit Mayr-Steffeldemel - Schärdinger Landmolkerei, Raiffeisenverband OÖ Dr. Rudolf Binder, Pfarrer Wiesinger, Ing. Herbert Altendorfer GF BLM , Landesrat Land OÖ Landesrat Max Hiegelsberger, BLM Zentralbetriebsrat Ludwig Baier, BLM Obm. Johann Schneeberger.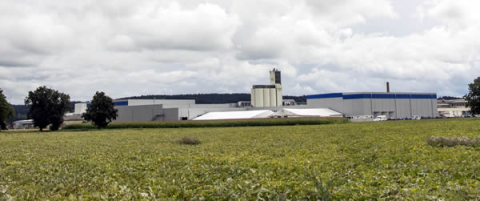 Picture: Berglandmilch eGen, Werk Geinberg