Awards for best cheese products!
2015-16 Cheese Awards: 1 x Gold, 2 x Silver
The World Cheese Awards (WCA) recognises the world's best cheese products. The biggest cheese competition of its kind, held in Birmingham, UK, at the end of November, attracted a record number of entries. Some 2,700 cheese samples from 30 countries were assessed by the international panel of judges, consisting of more than 240 experts from 30 different nations. Berglandmilch won gold and silver for Tirol Milch and Schärdinger cheese specialities.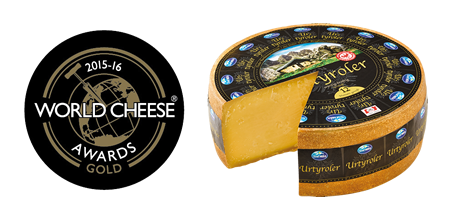 Gold for Tirol Milch Urtyroler
Tirol Milch Urtyroler is made from the finest Tirolean farmers' milk. This premium mountain cheese speciality is matured for at least 12 months, which gives it an unmistakable flavour: strong, piquant and hearty. The protein crystals that are produced during the long maturing process highlight the uniqueness of this cheese speciality. A true pleasure for all the senses. Urtyroler also won the 2016 Käsekaiser in the "Innovations" category.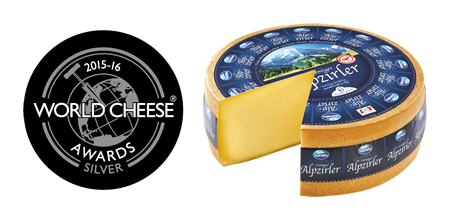 Silver for Tirol Milch Alpzirler
Tirol Alpzirler is carefully treated with red cultures throughout the course of its six-month ageing period. A Tirol hard cheese speciality made from the finest Tirolean farmers' milk. This gives Tirol Milch Alpzirler its strong, piquant and distinctive flavour, as well as its light yellow, smooth melting texture with the occasional round eye.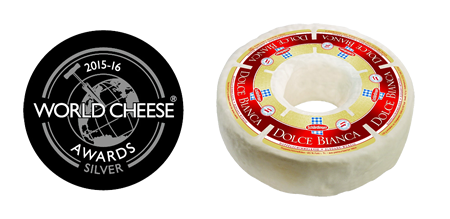 Silver for Schärdinger Dolce Bianca
Schärdinger Dolce Bianca blends the mild mushroom aroma of fine white mould with the piquant flavour of blue veining. This combination of the two cultures results in a smooth melting soft cheese.
"These achievements at the 2015-2016 World Cheese Awards once again prove that Berglandmilch's quality strategy in Austria and abroad is bearing fruit - and that is something our customers appreciate," said Josef Braunshofer, Managing Director of Berglandmilch eGen.
"But we can only offer our customers award-winning cheese specialities with the help of our dairy farmers, who supply us with the best quality GM-free raw milk, and our employees, who process this milk into the finest cheese," he added.